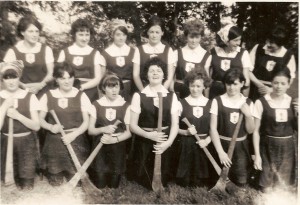 The sport of camogie – a form of hurling for women – swept through Tyrone in a wave of enthusiasm in the 1930s. In 1938, it made its first inroads into this parish, when a team was set up in the Brantry, as an auxiliary of the men's new GAA club.
It was reported in May 1938 that camogie in the Brantry 'has already, after only a few games, become an attraction which is more than local.' St Patrick's Camogie Club, Brantry, was formed, with the following committee elected: president, Annie Hughes; vice-president, Mary Kerr, Benburb; secretary, Mary Casey, P.E.T., Gort; treasurer, Mary McVeigh, Gort. All were single ladies. The Brantry team, wearing green and red frocks, drew with Edendork in a challenge game, but lost to Dungannon away by five goals to nought. Two officials of the club then attended an East Tyrone Camogie Board meeting; the club had already affiliated or was preparing to do so. A poem, 'Young Colleens of Brantry', was published in the local press, urging the players to keep up their new hobby. At the Brantry GAA sports-day in June, the Brantry beat the Moy 2-0 to 1-2 in a challenge game – its first recorded victory – and in late July, a seven-a-side camogie tournament was held at Eglish parochial sports, between teams from Dungannon, the Moy, the Brantry and Eglish, and the Moy side won.
It was a short-lived enterprise, however. After 1938, the Brantry camogie team was no more. It is likely that the players could not afford transport from the remote Brantry area to play other teams, and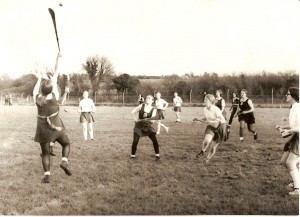 that the long hours they worked in local mills and as domestic servants left them with little time to practise the skills of the game.
Camogie was revived in the parish in 1965. About then some local girls saw camogie being played for the first time at a tournament in Eglish, and desired to have their own team. With a girls' youth club starting in Eglish in that year, and local girls now being formally gathered together for recreation, naturally they sought to organise to play for their parish against others. They held an informal 'meeting' under a tree at Roan, as they could not get into the parochial hall that August evening. This was the humble birth of St Teresa's Camogie Club, Eglish. Etta Mallon of Tullymore was the club's first cathaoirleach, Angela Hamill its secretary, and Margaret Donaghy its treasurer. Other prime movers included Vera and Maureen Daly, Mary Donaghy and Bernie Daly. The new club benefited from the recent demise of St Ita's Camogie Club, Dungannon. Anthony Donaghy (a cobbler in town), who was formerly a key figure for St Ita's, agreed to assist the new team. His daughter, Maura, and the McCaul sisters of Eskragh, Cassie (who later played for Ulster) and Rosie, then having no club, came to play for Eglish. On Anthony's suggestion, the team adopted the old Dungannon club uniform – white tops, green pinafores and black tights. Despite being initially reticent to give patronage to the sport, out of fear for the safety of young girls going off to play elsewhere, Fr Regan, the parish priest, consented to become club president, and he even furnished the club with its first set of camáin, fifty sticks in all.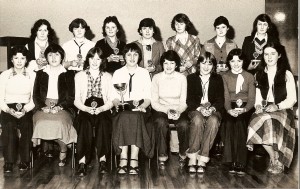 Camogie was in a weak state in Tyrone, but the instant and prolonged success of the new Eglish club is virtually unparalleled in the annals of Gaelic games in Ulster. In spite of the lack of camogie tradition in the parish, the team played the game like masterful veterans. In their first year of competition (1966), they won the Tyrone senior championship title, and in 1969 they advanced to their first Ulster senior club final, at Casement Park, Belfast. This was lost to Ahoghill, whose players included some All-Ireland senior medalists with Antrim. Embarrassingly, Eglish club members were brought before the Ulster Camogie Council for breaching the 'foreign'-dancing rule. After some discussion, the Eglish cailíní got off.
From 1971 the club's principal office-holders were exclusively female, but most of its team-trainers were male. Brother Ciarán (an Offaly native) was the coach from 1970 until he left Dungannon for Dublin in 1978. In each year but 1976 St Teresa's won the county championship. Such was the club's supremacy in Tyrone that it began to play in the Armagh camogie league. Eglish reached the Ulster club final again in 1973, 1974, 1977, 1981 and 1982, in which it met Creggan and Portglenone of Antrim, and Kilkeel of Down. Alas for Eglish, it lost them all! Throughout these years Eglish players formed the backbone of Tyrone county teams, and the club hosted many of Tyrone's home games. Space does not permit a full list of these county players here. Pauline Vallely (captain) and eight other Eglish players featured on the Tyrone panel that lost to Cork in the All-Ireland Junior 'A' Camogie Championship final of 1980 at Croke Park. In addition, Vallely, Margaret Jordan, Maureen Ogle, Ursula Daly, Sheila Burke and Anne Fox were selected to play for Ulster senior teams. Cecelia McKay captained the Ulster Polytechnic team that won the Purcell Cup in 1970's.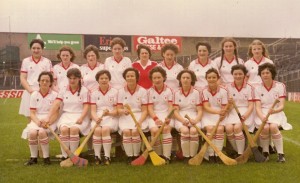 In 1985, in its seventh provincial final appearance, Eglish beat Swatragh (Doire) in a replay to win the Ulster Senior Camogie Championship at last. By 1987, under the guidance of Gerry Goodwin (Dungannon), the club had completed an excellent three-in-a-row of Ulster final victories over Swatragh. In the 1986 and 1987 finals, Sheila Burke, the captain, scored remarkable tallies of 4-0 and 2-4. In each year Eglish played its All-Ireland semi-final at the opposition's home ground, and (not surprisingly) lost: to Athenry (Galway) in 1985, St Paul's (Kilkenny) (the team of the famous Downey sisters) in 1986, and Glen Rovers (Cork) in 1987. In the latter game, Eglish played perhaps its best game ever, leading at half-time and just losing by a point away to the reigning All-Ireland champion side. The away fixtures were the products of bad luck in the draw, by which semi-final venues were decided. The calibre of these opponents, from hotbeds of hurling / camogie, reflects the magnitude of Eglish's feat in getting so far. Eglish, from a 'junior' county in hurling / camogie, had not the same local tradition or other advantages from which to draw.
Yet the club persevered, and in 1991 it defeated Loughgiel to win its fourth Ulster senior title. Then on 10 November, it won an All-Ireland semi-final at last, beating Celtic of Dublin, 3-7 to 2-4, in the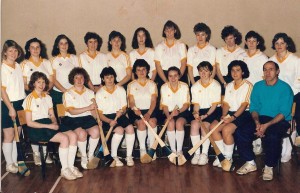 capital; goals from Una Donnelly and Brenda Burke, and seven points from Leona Fay, carried the day. Alas for Eglish, travelling away to Ballinasloe for the national final proved too great a handicap. In awful conditions, Mullagh, the local Galway side, won easily. But Eglish was the only Ulster club to reach the final from 1978 to 2000. This team played on that historic day: Máiréad Mason, Anne Mackle, Gráinne Daly, Mary Rose McGready, Nora McGready (captain), Ursula Jordan, Catherine Finnegan, Leona Fay, Una Donnelly, Anne McKenna, Brenda Burke and Anne Jordan. Paula Daly, Catherine Jones, Fiona O'Donnell and Maria Barclay were also on the panel. Of this team, Catherine Finnegan, Mary Rose McGready, Brenda Burke and Leona Fay played for Ulster at either senior or junior level.
While the club did not revisit the epic heights of 1985-91, it continued to dominate camogie in Tyrone. By 1998 Eglish had won 23 county senior championship titles in a row, or 32 in 33 years, and countless Tyrone senior league honours. In youth camogie grades, St Teresa's did not dominate quite as much, and its senior championship monopoly was eventually broken by Clonoe in 1999. Over the next three years, Eglish won the title just once, in 2001 – a year in which it also won its first national honours, in the Kilmacud Sevens junior section. More so than other clubs in the county, however, Eglish nurtured and held on to its talented young players, due largely to the strong family ties within the club, from the founders through to the present players. Having regrouped, and changed the club's name from St Teresa's to St Patrick's (to match the GAA club's name), from 2003 Eglish kept a firm grip on the cup again. Owing to a decline in camogie in the county – where two decades earlier camogie clubs abounded, scarcely half a dozen survived into the 2000s, while women's football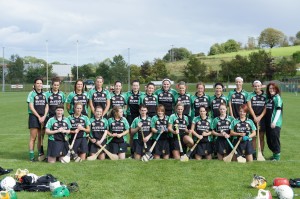 began to boom – Eglish had to go further afield for competitive games. After some years in the Armagh league, since the 2000s Eglish has played in provincial leagues, initially in the Ulster Camogie League Shield (junior) grade, and reaching the Ulster Premier League final in 2011. A new generation of Eglish players have achieved high honours outside the club too. Three Eglish girls have played for Ireland against Scotland in camogie / shinty internationals: Susan McCann in 2005, Frances Bigley in 2009 and Shauna Jordan in 2010. Shauna Jordan and Maria Jordan have also played for the Ulster senior team.
In 2012 the tally stands at 41 county senior championship titles in 45 years – one of the greatest winning streaks in the history of Gaelic sport, by any club in any county. Today, it remains the flagship camogie club in Tyrone, being the only one to play throughout the last 45 years, and being well known all over Ulster and beyond.