In recent years we've had various players leave Eglish parish to find work or to travel, with America and Australia proving most popular. Although thousands of miles from home, our players have signed up with GAA clubs in numerous cities such as London, New York, Philadelphia, Boston, San Francisco, Sydney or Melbourne to name a few. These GAA clubs have been serving the Irish communities abroad for years and help provide an outlet for the Irish to play their native games.
In America, each city has many GAA clubs. The championship winners at Junior, Intermadiate and Senior from each city go forward to play each other in the All American Finals. These finals are hosted by a different city each year, and this year it was the turn of Philadelphia. The games are held over a weekend, usually the last weekend in August.
This year Eglish had representatives with a couple of teams that made it through to the All American Finals. In the Senior Football Final, the Ulster San Francisco team were crowned champions, beating Shannon Blues Boston by 2-14 to 2-11, with five of their players coming from Eglish, namely brothers Caolan and Stephen Daly, James McCann, Dwyer Jordan and Jody Ogle. See photo below of these players with the cup.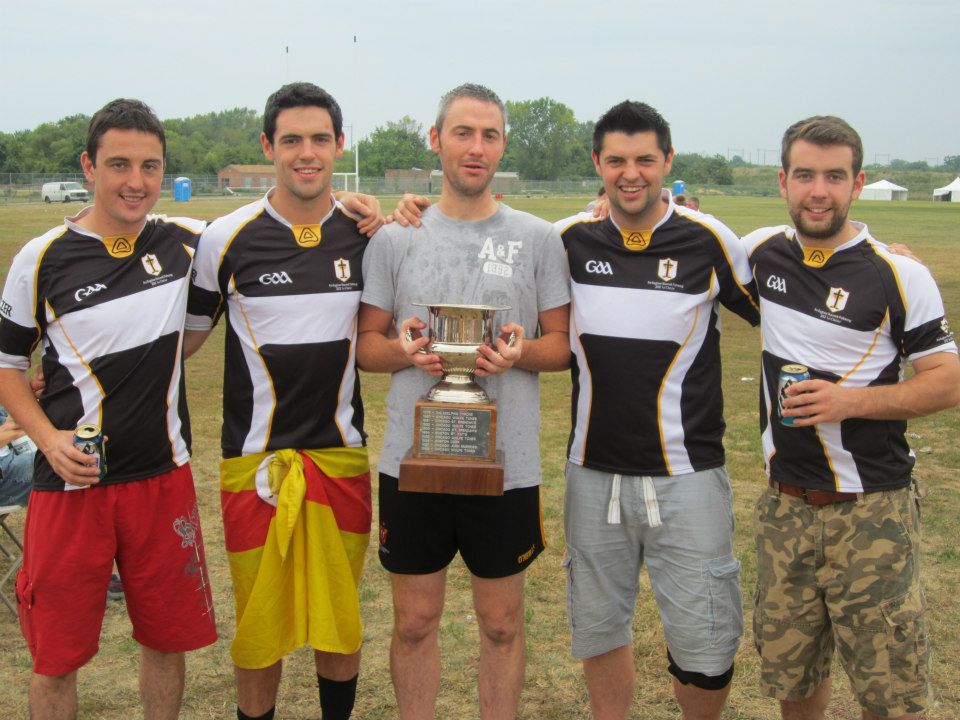 In the Junior Football Final Eglish also had a representative, with Kevin McCann playing for Fionn MacCumhaill GAC Dallas. Unfortunately they were beaten by Phoenix GAC on a score line of 2-07 to 1-08.
The GAA in Australia is similarily organised, except it is run within states, not cities. In the state of New South Wales (NSW), Sydney is the largest city, so most of the clubs are based around that area. For obvious reasons, Eglish has close links with the Cormac McAnallens GAC, based in the Bondi area of Sydney. The club had already secured the NSW league title a few weeks ago so they were going for the double when the championship final was held recently. In the final they faced a tough test from Penrith Gaels GAC, but they run out eventual winners on a scoreline of Cormac McAnallens GAC 3-08 Penrith Gaels 0-11. Another one of our Senior players from recent years, Emmet McKenna, was a key player of that side.
Click on the link below to listen to a post-match interview by GaelicSportsCast with Emmet McKenna on winning the NSW championship.
http://www.gaelicsportscast.com/2012/09/03/416-mcanallens-cusacks-and-coast-on-the-double/
Well done to all our exiles overseas!
If you know of anyone else who had success or was involved with a team from overseas you can drop us an email at info@eglishgfc.com.