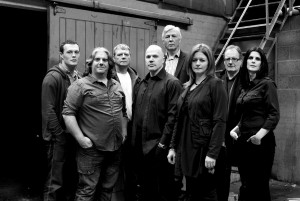 Legendary Tyrone/Armagh/Derry celtic rockers "More Power to your Elbow" will start the summer 2014 festival season with a much anticipated gig for Eglish GFC, just outside Dungannon, on Saturday May 24th.
"More Power to your Elbow" have become an integral part of the culture, especially here in the North of Ireland, where the band is renowned for huge crowds, high entertainment and fierce craic altogether! Playing a mesmerising blend of Irish and rock style music, they could be variously defined, as a folk-orchestra with a blazing array of electro-acoustic instruments or as full-on rockers, with driving drums and a dizzy rhythm and lead section. One thing is for sure, they will rattle your speakers because everything they do combines the inherent wizardry of Irish traditional with the musical muscle of rock. "More Power to your Elbow" really know the recipe for creating an electric atmosphere at their shows. You just can't stand still!
"More Power to your Elbow" are highly regarded by audiences here in Ireland and also in Europe and the USA, where they have played many great festivals over the years. However, it is on their home turf that the band is most at ease and the Festival at Eglish is the perfect opportunity to catch them at their very best.
Recent times have been busy for the band and they have released a new album "Until the Last Note Fades" which has been very well received. Just before Christmas, the band collaborated in a most interesting project to raise funds for the Irish Guide Dog Association for the Blind. This involved recording their very own version of the famous Dublin song "Alive Alive O" which was launched in the premier Dublin nightclub "Copper-Face Jacks." All proceeds from downloads of the song went directly to the charity and over the Christmas period, "More Power to your Elbow" reached Number One in the Irish Rock Charts and they were delighted with the success.