Lotto
Lotto numbers for Monday 8th July were 4,11,21,23. There were three match 3 winners Mary T Goodfellow, James McCann and Linda Daly. The next Lotto Draw will be on Monday 5th August, Jackpot £850.
Senior & Reserve Football
The next scheduled Senior and Reserve league game is on Sunday 28th July when we host Tattyreagh. The club would like to wish Senior player Conall McNulty a speedy recovery from a broken arm he sustained in a challenge game at the weekend. We hope to see you back out on the pitch again soon.
 U14s
The U14s capped of a tremendous season last Tuesday in the Grade 2 League Final in Aghaloo. Trailing Killeeshil going into the last ten minutes the boys dug deep and powered home winning on a scoreline of 5-11 to 4-08. Having already won the Championship the week before, and winning the All Ireland Féile at the weekend the boys showed great heart to capture the League as well. Huge credit to all the boys and management for an incredible season. Pictured below, the U14 team and management with the Grade 2 Championship, League and the All Ireland Féile.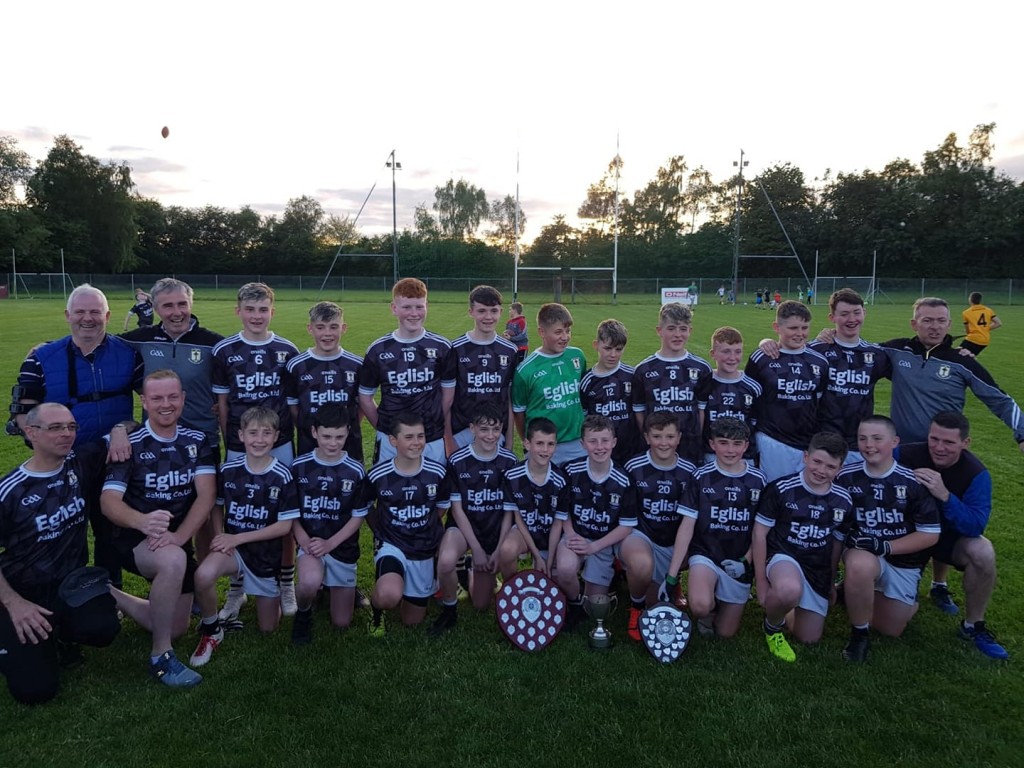 Summer Camp
Our Summer Camp took place last week from Wednesday to Friday. The upwards of 90 children attended the 3 days, and with the favourable weather had a great time. Thanks to Aidan Muldoon and helpers for all their hard work in org
Well done and Good Luck
Well done to Ethan Jordan and the Tyrone U20s at the weekend on qualifying for the Ulster Final by defeating Cavan. Ethan featured as a substitute coming off the bench to score a point. Best of luck to Ethan and the U20s on Sunday when they face Derry in the Ulster Final at 6pm in Armagh. Preceding that game is the Ulster Minor Final at 4pm – good luck to Michael McGleenan, Luke Donnelly, Colin Holmes and the Tyrone Minors when they face Monaghan.